By dmarinos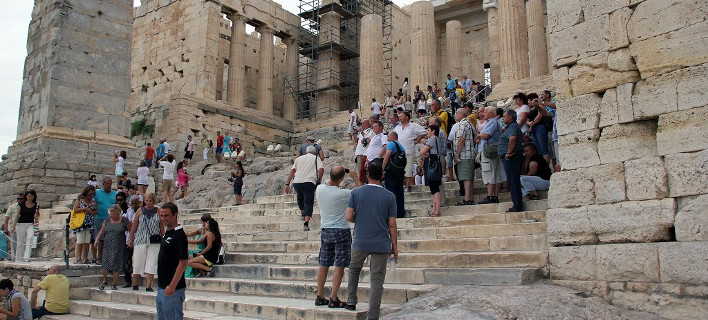 The attendance record of numerous tourists in Greece during the 2014 It doesn't seem that will be flare that popped and then I lost sight of the country. The British Telegraph notes that the Greeks intend to add to the already high number of tourists other 9 million by 2021 and so their number will reach 27 million.
The positive, Note the publication of the newspaper, is that Greece is the appropriate place for holidays opulence, but for people who have low budget. Speaking to the Telegraph, the Culture Minister Olga Kefalogianni developed the shots of the Greek side so that tourism in the coming years to benefit from the positive signs of the tourist market and to develop even more in this area. The archaeological places in Greece help to attract even more tourists.
The Pilos, but mostly it's the Amphipolis giving tone and is expected to become a magnet for many years visitors. "We want to extend the parts offered to visit in Greece. Not to confine ourselves only to the Islands, but to include mountain areas. The recent discovery of Amphipolis is important, because it will pull a lot of visitors to the site». It will not be only the specific area that will benefit. Windfall gains would have the Thessaloniki, Halkidiki and the continent, ideal for walk and ascent.
At The Same Time, Ms. Kefalogianni noted that "the natural environment and culture must be kept and protected. This is our main concern and our strategy. Only in this way will bring tourists to Greece». The article notes that Greece is growing continuously in the tourist sector with projects that can attract tourists from around the world. Costa Navarino extension is such a plan, the podilatodromos that will unite the Kifissia with the Faliro, the construction of new hotels in the Cyclades with emphasis on deluxe amenities, as well as the expansions in Metro and trams. Of Course, These include inside the Citadel, that was and remains the great… profit of Athens.
Both the Museum of the Acropolis and all the rest of Greece saw an increase in visitors of about 20% from January until June. The chat comes and the Elgin Marbles, for which Ms. Kefalogianni notes: "It's a separate world heritage monument. All Greeks want to return, but this must be done with the agreement of the States and museums».