See what the words mean: Aegean Sea-Greece
Mediterranean-Atlantic that laxeytikan in
Tomb of the unknown soldier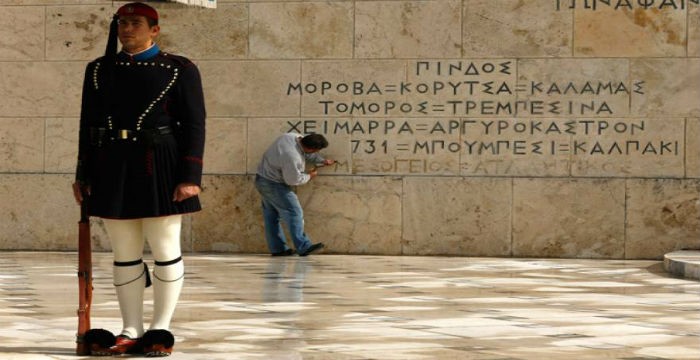 See what the words mean: Aegean Sea-Greece-Mediterranean-Atlantic that laxeytikan at the tomb of the unknown soldier
Battles of the Greek army during the Balkan wars, in the Asia minor campaign, During World War II ", businesses in southern Russia, the battles of WWII and the Greek army operations in Korea.
The phrases "MEN EPIFANON PASA EARTH TAFOS» and «A BED OF SILENT ESTRWMENI FERETAI BLANK"that afieroyntai on unsung soldiers who lost their lives on the battlefields dominate the Monument of the unknown soldier in Syntagma.
The right and left of the sculpture depicting a dead Warrior, nude, lying on the ground are the battles: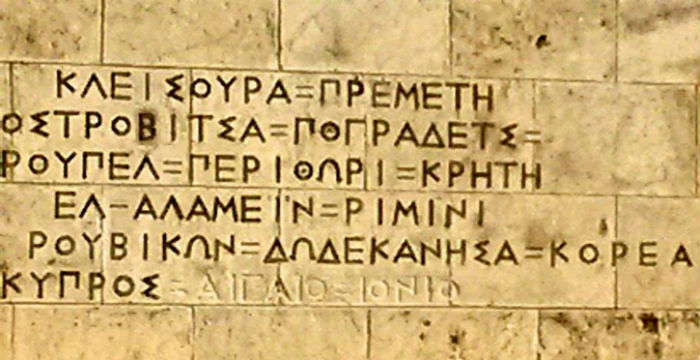 ELASSWN = SARANTAPORON LAZARADES = STENA:KATERINI = SOROBITS = DOOR
GIANNITSA = THESSALONIKI = OSTROBON = KORITSA =
GRYMPOBO = PENTEPIGADIA = PESTA PREVEZA =
AETORRACHI = MANWLIASSA = DRISKOS = BIZANI
KILKIS = MPELES = KRESNATSOYMAGIA = CABBAGES
PETSOBO = NEIROKOPI = MPANITSA = MACHWMEA
GKOLOMPILO = SMPORSKO = PRESLAP = ERIGWN
RABINE = MONASTERY
SKRA = STRYMWN = DOΪRANI = MPELES = GKRANKORONE = TZENA (left)
and
CHERSWN = SERMIKAS = SEBASTOYPOLIS = ODESSA
ARTAKI = AIDINION = PROYSSA = PHILADELPHIA
TOYMLOYMPOYNAR = KIOYTACHEIA = DORILAIWN
AFION KARACHISAR = SAGGARIOSKALEGKROTO
PINDOS MOROBA = KORYTSA = KALAMAS
TOMOROS = TREMPESINA
ChEIMARRA = ARGYROKASTRON731 = MPOYMPESI = KALPAKI
KLEISOYRA = PREMETI
OSTROBITSA = POGRADETS =
ROYPEL = PERITHWRI = ALAMEΪN = EL-CRETE
RIMINI = ROYBIKWN = DODEKANISA = KOREA
"Cyprus" was the last word I had etched on the monument of the unknown soldier 1994.
Last week the words etched on the monument:
«AEGEAN-IONIAN-MEDITERRANEAN-ATLANTIC».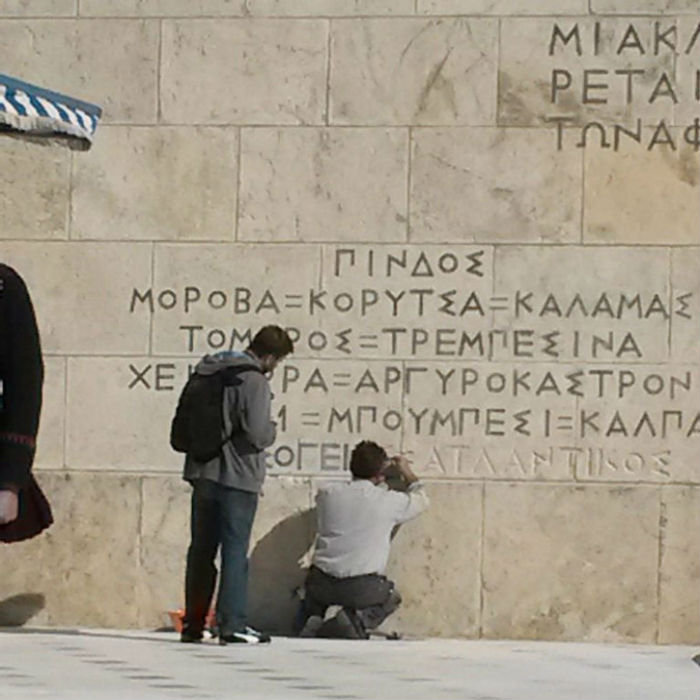 I was going to implement the decision of the Ministry of culture to give the monument of the unknown soldier the main fields in which naymachiwn died of the Greeks who fought in the seas.
Are people who lost their lives but were never found, in order to apportion the values that our country owes them.
The inscription, In addition to the Aegean, the Ionian Sea and the Mediterranean and the Atlantic has been included, in recognition of the sacrifices of Merchant Navy crews in the second world war ". in Europe's supply effort from America.
The inclusion of the inscription "AEGEAN-IONIAN-MEDITERRANEAN-ATLANTIC"at the tomb of the unknown soldier was made possible after interventions and initiatives of the Board of the Foundation" Grove Greek naval tradition "with prominent Foundation President Admiral e. a.. Kyriakos Kyriakidis.